Hey guys!  So, today I am going to be showing you all what's in my Urban Outfitters Shopping Bag!  The prices for all of these are in Canadian cash.  I hope you like this blog post, if so give it a thumbs up.  But lets get into it.
Room Decor Haul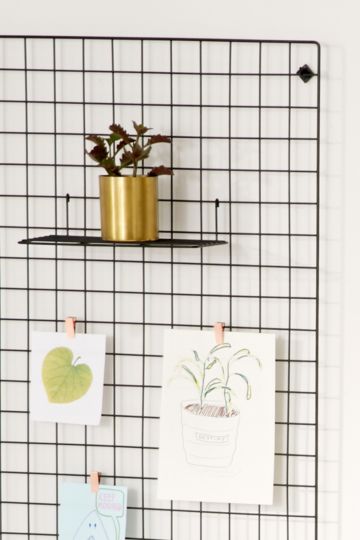 So I love this this, it's super cute because I have so many Polaroids and just photos I have taken in general (follow my photography Instagram: @framedbymaddie) that I have nowhere to display.  It would also be super cute to put a little plant on the shelf too.  It comes in black and green.
I love this banner.  I was looking through all of Urban Outfitters wall art and none caught my eye other than this one which is so cute!  This only comes in the colour gold, but I love it in gold!  I know that Urban is super expensive, and compared to some of their other stuff this isn't that bad. You can't really complain about prices if you're shopping at Urban because you should know what you're getting into.
I love how cinema boxes are a trend now!  I find them so cute and I really want one, but I'm broke so it just sits in my car all day.  Tragic.  But in all seriousness I find this really cute and I can imagine a really cute saying inside to help me through the day. 
I really want a map of the world to put up on my wall.  I don't know why but I find them oddly satisfying even though they just sit on the wall and do nothing… But with this one you can pin thing to it.  I find that really cool.  I would probably stick a photo on a few of my favourite places in the world. 
So this notebook is soooo cute and I have this thing for notebook's.  Yes I have a notebook fetish… But in all seriousness I always buy notebooks literally every time I see them my mom always buy's notebooks for me because I'm broke as hell.  it comes in brown as shown, rainbow and one that has eye's all over it.
So this blanket is hella expensive, but is also hella cute, soooo… I wish.  I really want a hooded blanket because they look really comfortable and I really want one just because. Which sounds really bitchy… But these come in grey and purple.  I personally love the purple one.
So that is it for today's post I hope you liked it, if so give it a like and follow me for content like this and more! Share this with your friends if you think they will enjoy it, but that is all for today, I'll see you guys, tomorrow.  Bye!