Hey guys, so today I am doing what ever single person on the internet is doing.  Today I'm giving you all my
Autumn Look Book
Only thing is that I'm broke as hell so I am just going to take clothes off sites like Forever 21 and H&M.  Is this just an excuse so I can shop without feeling guilty, yes.  But lets get into this post.
1-

Waffle-Knit Crop Top From Forever 21
So the minute I saw this top I feel in love with it.  It comes in this light pink and a dark red.  I personally love the light pick one because I would wear some cute black leggings with it, maybe some cute sun glasses a high ponytail.  You know, make it look super cute.
2-

Mock-Neck Swing Dress From

Forever 21
So I can picture this dress with some super cute boots and tights.  Messy bun, you know just a casual look for the fall.  This dress comes in green, red and pink.  To me, it just screams Autumn, which is why I love it so much!  To be honest forever 21 is my queen because a lot of the stuff that it has isn't a that much money.
3- Chunky Knit Pompom Beanie From Urban Outfitters
So I may live on an island but I really want a beanie because I don't have one and I would power through the sweat and wear it on the island because they are cute as hell.  The beanie comes in the light brown colour in the photo and pink.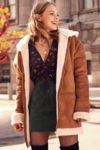 4- Silence + Noise Hooded Sherpa Aviator From Urban Outfitters
I am spending Christmas this year in Canada and this coat is super cute and I really love it.  Plus I figured I would show it to you guys so you can buy it and love it like I would.  This jacket only comes in one colour, which is the light brown one that is to the left.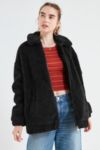 5- Light Before Dark Oversized Sherpa Zip-Up Jacket From Urban Outfitters
Living for this jacket though, I want it, I need it.  Please.  But I actually really like this jacket I think it's amazing and I really want it but it's really expensive and I'm broke so… yeah.  
So that is it for today's post, make sure to like and comment down below which of these you like the most.  Follow me for post like this and more, but I'll talk to you guys later. Bye!